Beginners to Intermediate, Level 1
2 day course
History of dry needling
Diagnosis of Myofascial Trigger Points
Introduction to neuromuscular dryneedling
Dangers and Contraindications
Safe needle practice (OH&S)
Reactor types & Trigger point patterns
Thoracic Pain, CTJ area, Triceps, Biceps
Neck pain, head aches, shoulder pain, LBP, chronic sciatica
Sports injuries, Tennis elbow, golfers elbow, knee pain, arthritis, etc
Superficial and deep dry needling, Periosteal pecking
Learn to Elicit Local Twitch responses (LTR)
Neurophysiology of acute and chronic pain mechanism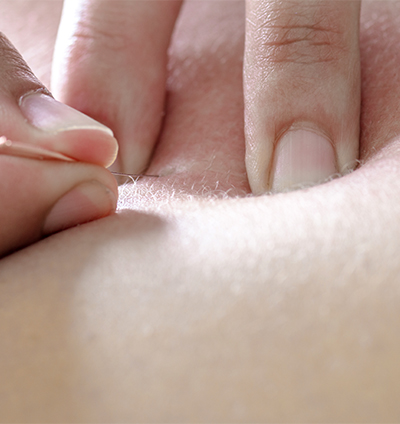 Advanced Level 2 - Comprehensive
Includes: Advanced Dry Needling and an introduction to: Electro Dry Needling, IASTM, Gua sha and Cupping
2 day course
Neuromuscular dry needling "needle smarter not harder"
The latest in trigger point science
Find SSS – Sensitized Spinal Segments
Learn unique assessment methods
Homeostatic Points / Wellness
Learn to use Use less needles & spend Less time
Objective measures pre & post needling
Needle advanced & complex areas: Face, TMJ Pain, Temporal, lateral neck, head, hands, feet, groin / hip area and adductor.
Needle Iliopsoas ( The LBP – Prankster)
Complex knee pathologies, effective scar needling
Ankle, chest, axilla, shoulder and abdominal muscles
Specific treatments for sports injuries
Learn about Needle Responsive Areas- improve your effectiveness
Dry needling in pregnancy
Learn to use a range of different needles, for different areas, including scar tissue needling
Learn Non-Dry needling techniques: cupping, IASTM and Gua Sha
FAST TRACK - Level 1 & 2 Condensed
Beginners to Advanced Dry Needling
Includes: Advanced Dry Needling and an introduction to: Electro Dry Needling, IASTM, Gua Sha and Cupping
2 day course
Diagnosis of Myofascial Trigger Points, Trigger point patterns
Introduction to neuromuscular dry needling
Dangers and Contraindications, Safe needle practice (OH&S)
Thoracic Pain, CTJ area, Triceps, Biceps
Neck pain, headaches, shoulder pain, LBP, chronic sciatica
Sports injuries, tennis elbow, golfers elbow, knee pain, arthritis, etc
Superficial and deep dry needling, Periosteal pecking
Learn to Elicit Local Twitch responses (LTR)
Neurophysiology of dry needling
Needle advanced & complex areas: Face, TMJ Pain, Temporal, lateral neck, head, hands, feet, groin / hip area and adductors
Needle Iliopsoas ( The LBP – Prankster)
Complex knee pathologies, effective scar needling
Ankle, chest, axilla, shoulder
Learn about Needle Responsive Areas- improve your effectiveness
Dry needling in pregnancy
Neuromuscular dry needling "needle smarter not harder"
Homeostatic Points / Wellness
Learn to use a range of different needles, for different areas
Learn Non-Dry needling techniques: Cupping, IASTM and Gua Sha
Pelvic Pain & Dysfunction
A Neuromuscular approach
Includes: Tx, Lx, abdominals & LL
2 day course
Diagnosis of Myofascial Trigger Points, Trigger point patterns
Learn neuromuscular dry needling
Pain science, sensitisation of PNS and CNS.
The needling effect on the PNS, CNS, ANS, and the Micturition systems.
Dangers and Contraindications, Safe needle practice (OH&S)
Areas taught: thoracic, lumbar, abdominals and pelvic and part of the lower limb.
Also includes: Pelvic, Lumbar, Sacral pain and urogenital conditions; such as: OAB, CPPS, Pudendal neuralgia etc.
Dysmenorrhea, PMS, Menopause, IBS, Faecal incontinence, etc.
Moreover: scar needling will be taught for C- section, pelvic and Lx- scars
Effective dry needling techniques (as well as electro dry needling) are taught, targeting - trigger points, tendinopathy, enthesopathy, myotomes, dermatomes.
Sacral nerves, tibal nerve, pudendal nerve, fascial lines and other important structures
Anxiety and stress play an integral role in pain perception. Dry needling/ acupuncture has been shown to decrease neural activity in the limbic system and modulate the pain experience.
Note: this course does not cover intimate, internal pelvic floor needling.
Upper limb Specific Dry Needling Course
Beginner to Advanced level
Includes: Electro Dry needling.
1.5 day course
History of dry needling
Diagnosis of Myofascial Trigger Points
Introduction to neuromuscular dry needling
Dangers and Contraindications
Safe needle practice (OH&S)
Reactor types & Trigger point patterns
Thoracic Pain, Lower neck area (upper trapezius), Triceps, Biceps
Neck pain, head aches, Rotator cuff / shoulder pain,
Tendinopathies, Tennis elbow, golfers elbow,
Forearm pain, wrist pain, thumb pain, hand pain, ligament.
Carpal tunnel syndrome, De Quervain, brachioradialis
Superficial and deep dry needling, Periosteal pecking
Learn to Elicit Local Twitch responses (LTR)
Neurophysiology of acute and chronic pain mechanism
Also includes: Electro Dry Needling
Exclusive Podiatry Course
Beginner to Advanced (in one course)
2 day course
Trigger point pain patterns and Tendinopathies
Diagnosis of Myofascial Trigger Points
Gluteal pain, TFL, ITB syndrome , Knee pain, hamstrings
Shin splints, MTSS, peronei , calf pain, heel pain etc.
Achilles tendinopathies, soleus, gastroc , popliteus
Ankle pain, foot pain. Tib post, Tib ant, ankle ligaments.
Joint pain, bursae pain, plantarfasciitis etc
Superficial to deep intrinsic foot muscles
Superficial: EHB, EDB, EDL, EHL, Abd Hall, ABDM, FDB
Deep: QP, FHB, Add hallucis (both heads)
The interossei, tendon attachments
Periosteal pecking and effective scar needling
Neurophysiology of Acute & Chronic pain
Neuro physiological pain relief mechanism
Nociceptive pain – neuropathic pain
Extensive Hands on Dry Needling practice